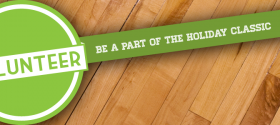 If interested in volunteering, click on the link below and check the available spots to volunteer. We are in need of experienced volunteers to announce, keep the scorebook, and work the scoreboard and clock at each game. No pre-tournament training will be given, so previous experience and familiarity with these duties is preferred. If you work a minimum of four games (one session), you will receive VIP access to the entire tournament.
If interested, please contact Dave Oloffson at dave.oloffson.iayf@statefarm.com and let us know what shift(s) you would be available. Thanks!
Volunteer Schedule
Public Address Announcer
Sponsor PA Announcements(Coming Soon)
Scoreboard Operator
Timer/Clock Operator
Scorebook keeper
According to a new National Federation of High Schools Association rule, all official scorekeepers must wear official's stripes while at the table. If you have a shirt, please feel free to bring that with you to wear while working. Otherwise, we will have a striped pullover penny for you to wear at the table.